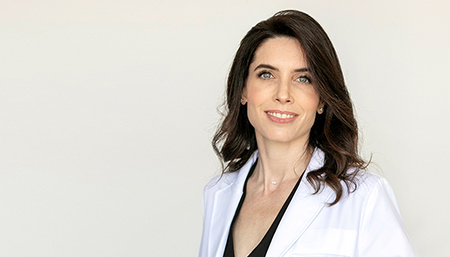 Dr. Oanna Meyer
Plastic and Aesthetic Surgeon
Swiss and Israeli MD & Plastic surgery licences
FEEL GOOD ABOUT YOURSELF
Every patient is a whole world, and the purpose of improvement and renewal is not to disguise, but to reveal.
I like to see the self-confidence that arises in patients after treatment, and I attach great importance to listening to and understanding a patient's desires, as psychological motivations and physiological motives can not be separated.
Patients tell us about their experience
I wish to express my gratitude for the professionalism, support and guidance I received from Dr. Meyer and the confidence I felt knowing I was in the very best hands. From my first visit, I felt that Dr. Oanna was professional, reliable and pleasant. She created an atmosphere that was both secure and calm throughout the entire process. Even through the more difficult aspects, Dr. Oanna was present, engaged and caring, which is what made it clear to me that I was receiving optimal care from start to finish. Highly recommended. Thank you!
Limor R
Dear Dr. Meyer,
You are absolutely spectacular! I went into this operation with some apprehension and I came out so satisfied. Thank you for your beautiful, precise and perfect work. You have hands of gold and you really fulfilled my dream. I highly recommend your services. To anyone who still isn't sure – don't hesitate. She really is the best.
Lots of love!
Sara Ben Haim
Dear Dr. Oanna Meyer,
I am so happy I found you. Once I decided that I wanted to have a breast reduction, I went to a number of doctors, but it was only once I met you that I felt an instant connection. I knew that I could place my dream of having this operation in your hands. There are no words to describe your meticulous, professional and serene nature. I know that I'll be coming to you with all of my aesthetic needs.
I can't recommend your services enough! You gave me a whole new quality of life with your beautiful work.
Liron Blu
A perfect doctor with hands of gold. Her results are incredible! She herself is caring and compassionate and took such wonderful care of me. Thank you so much!
Orly Andre
Dr. Meyer- you are amazing – I realized it the first moment I met you. You made me feel so comfortable and calm and gave me such a solid sense of security. I had no trouble at all deciding to do my procedure with you. It was clear I was in good hands and the entire process was perfect from start to finish. I am beyond thrilled with the results – so thank you! You are an incredible doctor and you really fulfilled my dreams!!!
Highly recommended!!!
Reli Yaakob
Dr. Meyer is an incredible physician – you really are the best. I can't even begin to describe how amazing you made me feel. I absolutely loved my experience with you. You knew how to calm me down and release all my fears. I knew from the first second that I made the right decision when I chose you. Happy holidays and big hugs!
Esther H
Hands of gold – professional and precise. Spectacular. There aren't enough words to describe just how wonderful your work really is.
Yonit Levy
What a gifted surgeon! Both an incredible and gentle doctor who really puts the patient first. It was such a pleasure to meet her and I'm so satisfied with the perfect results.
Janet Johnson
Three weeks ago, I underwent a breast augmentation with the incredible surgeon, Dr. Oanna Meyer. I have to say that I was quite nervous before the procedure. I really wanted to do something for myself but I got to the operation and I was shaking. When I woke up, I was so happy with the results! Absolutely stunning. Dr. Oanna Meyer is really the best.
Your work is perfect – you've made me so happy and I'm such a fan!
You're incredible and I'd recommend you to anyone.
Thank you so much. Much love!
Michal I
Two weeks ago, I underwent breast reduction and breast lift with the amazing Dr. Oanna. She made me feel wonderful. When I first arrived, I was really nervous but Dr. Meyer knew how to assuage my fears. I'm so happy I went to her. She's great!
Rina L